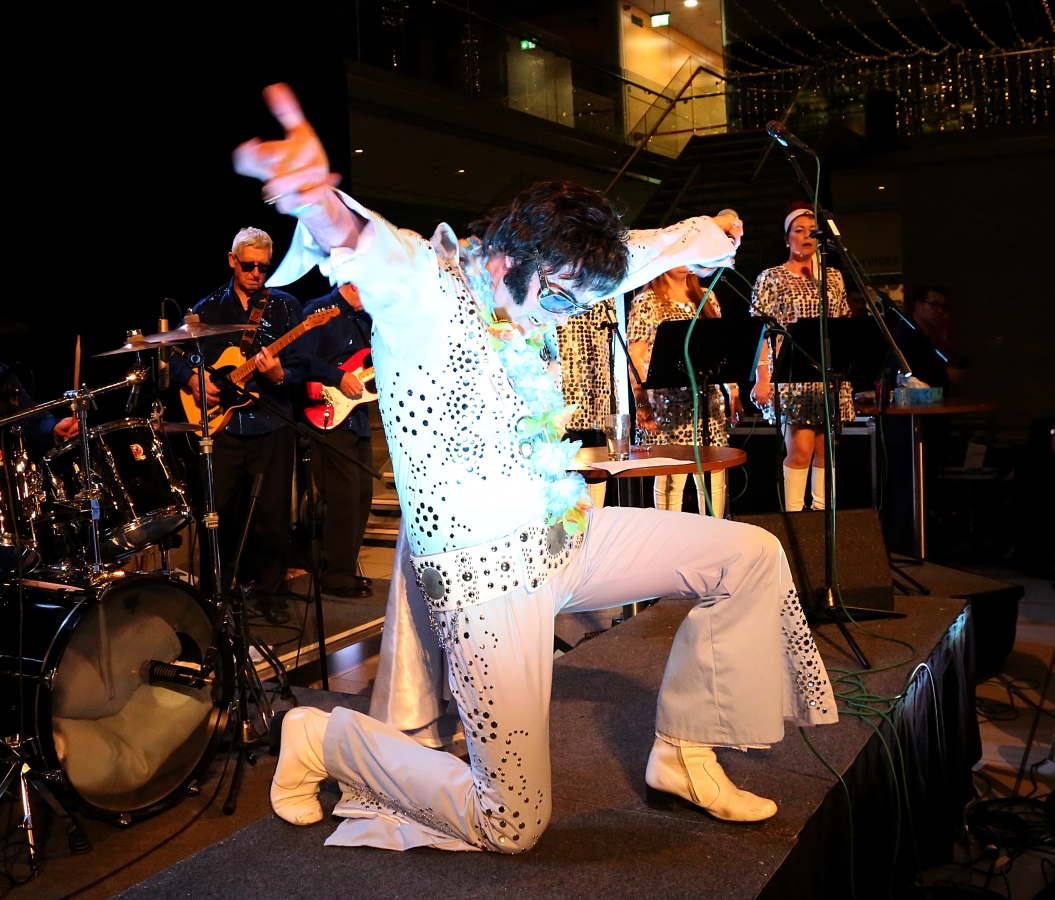 The King lives on in the form of our eight piece Elvis tribute band, The Blue Sueders!
Formed in 2007, we have been performing the best Elvis hits around East Anglia's top venues for over a decade, including The Ocean Rooms, Gorleston (with Rik Wakeman), Reepham Music Festival, Chapelfield Gardens, Norwich and Great Yarmouth Racecourse. Our notorious annual Christmas gig, Carols With The King, at The Forum in Norwich sells out its near on 500 capacity in days.
As many aspects of Elvis' 1970s Las Vegas band as possible are incorporated into our act. Drummer Paul Youngs thrashes (where appropriate) just as Ronnie Tutt did. Harry Curries's lead guitar is unmistakable as James Burton. Jerry Scheff's "fender bass" part is taken by the similarly laid back Stuart Shearer and Brian Smith not only replicates Glen D Hardin's piano but also adds, through his impressive dual level organ, the brass and strings of the Joe Geurcio orchestra. We even have our own cheeky chap Charlie Hodge, aka Chris McEvoy.
Our most exciting additions are our duo of backing singers, Trudi and Tracie. They take time off from their own performances as The Broads to be our very own Sweet Inspirations. And that leaves our Elvis. A fan from the age of 7, he has spent a lifetime scrutinising The King's every word and move, leading to plaudits such as, "that smooth as velvet voice and those unmistakeable dance moves – it had to be the King. I was transported back to the 1970s as Elvis gyrated across the stage, oozing Presley sex appeal in truckloads and leaving a trail of swooning females in his wake."
With over 400 hits to choose from, our repertoire is always adapting to the ebb and flow of Elvis' work, as it is deployed to the masses, for instance, recently with the Royal Philharmonic Orchestra. But there are always the big hits and we don't shirk at all our responsibility, as we see it, of providing the best selection of Elvis' most loved songs. Ballads such as Always On My Mind and Wonder Of You, rock and roll numbers such as Jailhouse Rock, Way Down and Moody Blue from his final recordings and the behemoths that are American Trilogy and Suspicious Minds.
Our aim is to please our audience as much as we enjoy performing the great man's songs – and that is a lot!
Thangyaverymushhhh